Ensuring building safety and compliance is crucial to prevent accidents and maintain the structural integrity of buildings. To make this process more efficient and accessible, the NYC Department of Buildings (DOB) created the online portal "DOB Now." This portal is designed to streamline the building safety compliance process for building owners, construction professionals, and the general public.
We will explore the various aspects of the portal and its features and how it can promote building safety and compliance in NYC. Join us as we dive deep into understanding the NYC DOB Now portal for building safety.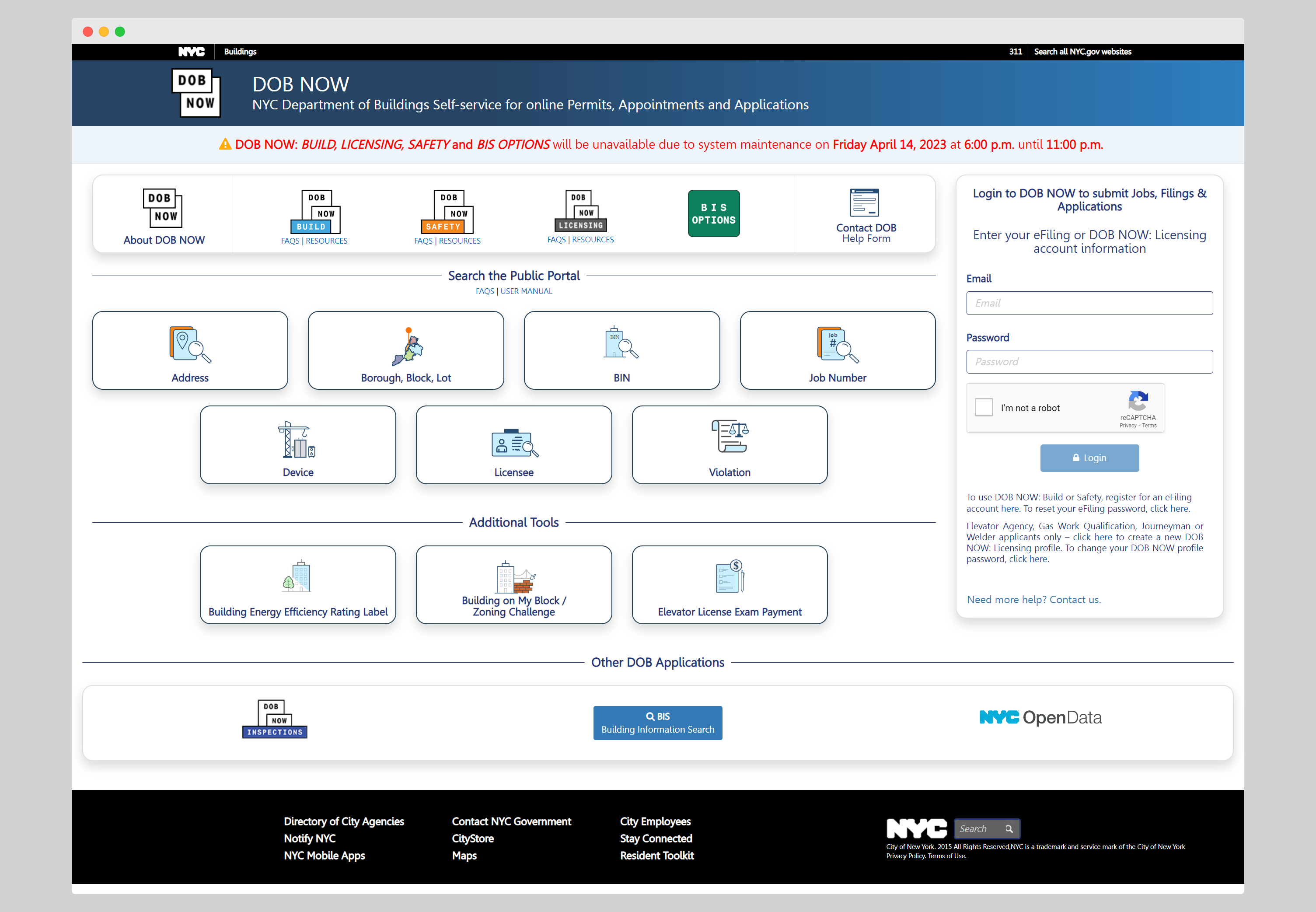 Accessing DOB Now: Safety
The DOB Now: Safety platform is a vital component of NYC DOB Now, as it is designed to support compliance with the NYC Construction Codes and regulations, especially relating to safety. For all those in the construction industry, safety is crucial. The platform provides an efficient means of tracking safety issues and helping to prevent accidents from occurring.
To access DOB Now: Safety, you must create an account at the DOB Now Login screen. The login screen enables existing users to log in to their existing DOB Now account while allowing new users to register for an account or create a brand new one. After creating an account or logging in, the DOB Now: Safety platform can be accessed by selecting Safety from the platform menu.
To create an account on DOB Now: Safety: First, navigate to the DOB Now Login page and click on Create an Account. Next, fill out the necessary details to register for an account, including your name, email address, and create a password. Once these details are completed, you should receive an email to verify your email address shortly.
DOB Now: Safety entails multiple features, including filing compliance requirements such as safety and facade compliance filings, permit applications, inspection requests, viewing and printing different compliance documents, updating license information, and more. Ensuring that workers, buildings, and the public are safe on construction sites is essential.
Understanding DOB Now: Public Portal
The DOB Now portal makes searching for information about the Department of Buildings easy. Users can quickly find the latest updates on jobs filed in DOB Now, view all jobs filed in DOB, or check permit status. With this information readily available, users can stay updated with their building projects and ensure that all applications and paperwork are correctly submitted and approved on time.
Compliance filings are an important part of the DOB Now: Build platform. Through this, filing representatives can easily submit construction and related documents, such as elevators and boilers, to ensure compliance with applicable laws and standards. Furthermore, filing representatives can track the progress of their applications on the portal in real-time and access industry-related forms from a single source.
Compliance filings also promote safety within buildings by helping to reduce risks associated with unlawful building projects or processes. By submitting all necessary documents promptly and keeping up to date with regulations through online resources such as webinars, users can help ensure that their constructions comply with relevant laws.
Additionally, users can take advantage of online resources such as webinars and tutorials to better understand how the DOB works and how to use the platform effectively. This helps increase safety, save time, eliminate paperwork costs associated with filing applications, reduce waiting times for applications to be processed and approved, and promote compliance within the building industry.
DOB Now: Build
The DOB Now: Build platform is a great resource for filing representatives and those looking to register for an eFiling account. Through this portal, users can submit applications, upload documents, manage their permits and certificate records, request inspections, access industry-related forms and receive real-time updates.
With an eFiling account, users can also take advantage of certain features such as the ability to receive emails at important milestones in the permit process. In addition, users can view and search information about their projects or related ones available on the portal. For those who already have an eFiling account, it is also possible to use the same login credentials to access DOB Now: Build.
Overall, DOB Now: Build provides a convenient way to handle building permit applications and associated processes efficiently and effectively from start to finish.